The Minister of Higher Education and Training, Dr Blade Nzimande met with the recently appointed members of the National Skills Authority (NSA).
The newly elected NSA board is reconstituted in terms Chapter 2 of the Skills Development Act 97 of 1998 as amended. The members of the Authority were nominated by organised Business, organised Labour and Community constituency through the NEDLAC process. State, public institutions of learning and private skills development providers, employment agencies, SAQA, QCTO and Skills experts also constitute the NSA.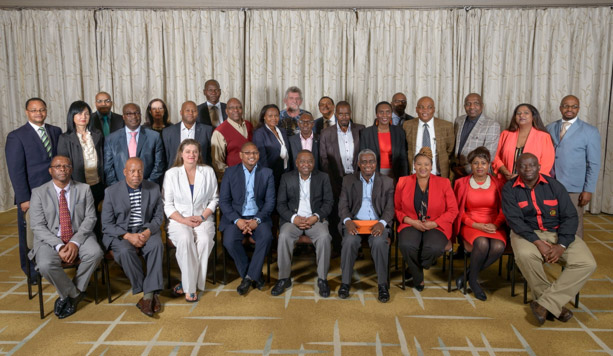 Minister Dr BE Nzimande with members of the new NSA and some DHET staff members
The meeting provided an opportunity for both the Minister and the new NSA to really look into the matters of importance which the NSA needs to continue addressing. But most importantly, the meeting provided the NSA with an opportunity to update the Minister of the outcomes of the first engagements and activities since it commenced in May 2015 as well as to consult with Minister Nzimande in order to align priorities of the NSA, the Ministry and the Department.
Congratulating the new NSA board, the Minister reiterated that he would really like the NSA to do some evaluation on the implementation of the NSDS III to enable the sector to identify what are the achievements thus far including challenges and weaknesses.The meeting emphasised a need for the NSA and the Department to build a supporting system for an effective SETA system. "Our SETAs need Labour Market Specialists and Sector Specialists who will really understand the need of our sector" said the Minister.
The meeting noted that the White Paper for Post-School and Education and Training explicitly envisages a new role for the NSA going forward. It states that a restructured and refocused NSA will concentrate specifically on monitoring and evaluating the (Sector Education and Training Authorities (SETAs). This implies that the NSA will become an expert body with high-level monitoring and evaluation skills.
Amongst key issues discussed at the meeting was the SETAs landscape and the NSDS III that will expire at the end of March 2016 and there is an urgent need to put transitional mechanism of extending the NSDS III and reestablishing the SETAs whilst the review of both processes unfold. The NSA welcomed the recommendation for the Minister to release the discussion document on the NSDS and Seta landscape beyond 2016 for public comment process. The meeting also discussed the recent labour court judgement relating to the Seta Grant regulation and the NSA has resolved to convene a special meeting in order to formulate an advice to the Minister that will ensure that the system is not disrupted and that the economy is supported with the requisite skills.